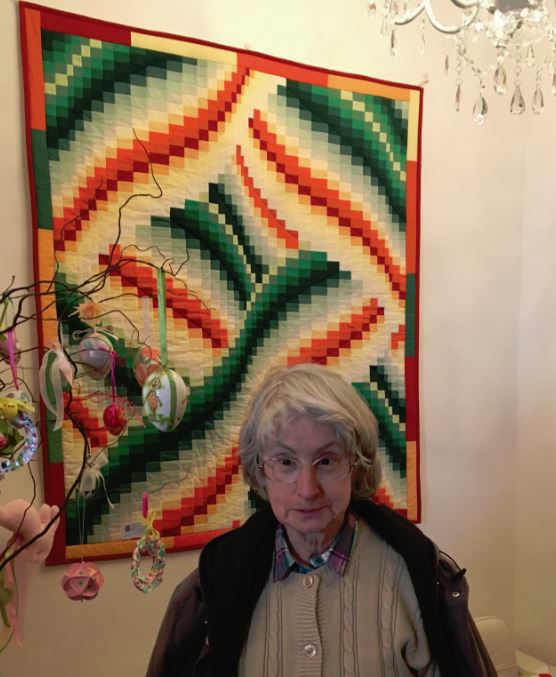 Everyone who visits the AWA office comes face to face with a beautiful work of art: a bright tapestry of swooping green and orange curves, fashioned from intricate geometrical patchwork. Yet few know that this design was fashioned by one of our very own members! Monika Sautner tells us a little bit about herself and her creative craftwork.
My parents were from Vienna, but I was born in 1940 in Nuremberg, Germany, where my parents had moved to look for work. I was only a small child during the war, but I remember fleeing our burning house when I was only 5 years old. I can still hear my mother telling me to jump over a pile of glowing embers.
We moved back to Vienna after the war. Things were difficult at first. At school, we sat in the classrooms wearing winter coats and gloves as there was no heat in the building! – and we had no supplies to speak of. My mother made me my first notebook by hand, she did this by sewing together sheets of baking paper! Nowadays kids have so many books, notebooks, computers… but it seems like they're not learning anything.
I trained to be a social worker, helping families in difficult situations. I had a super boss: a woman who always gave us little handcrafted gifts on special occasions. I loved her creations and thought "I could do that too!". That's how I got started with crafting, really. After my second daughter was born I stopped working outside the home. My crafts made being a housewife more interesting as my hobby really brought joy to my life. You should see my flat now – it's so full of crafts it's like a bazaar! I only need to ensure I manage to clear a space on my bed for sleeping!
I also used to volunteer at the Catholic pilgrimage site of Lourdes, in southern France. I'd go for several weeks at a time, often meeting the same group of fellow volunteers there, year after year. Because I can speak five languages – German, English, French, Italian and Spanish – they could always use my help in the office, giving information to the pilgrims, and helping with the lost-and-found.
The AWA is a great place for me to keep up my languages – speaking English to everyone, going to the Italian class – and I also teach the beginners' German class on Tuesday mornings. I love helping out with the crafts – I donated some lovely wreaths for the Easter Affayre event – and if anyone is interested in buying a patchwork quilt, please get in touch!